Bishops' Retirement Banquet SOUVENIR JOURNAL AD PAGE SETUP & RATES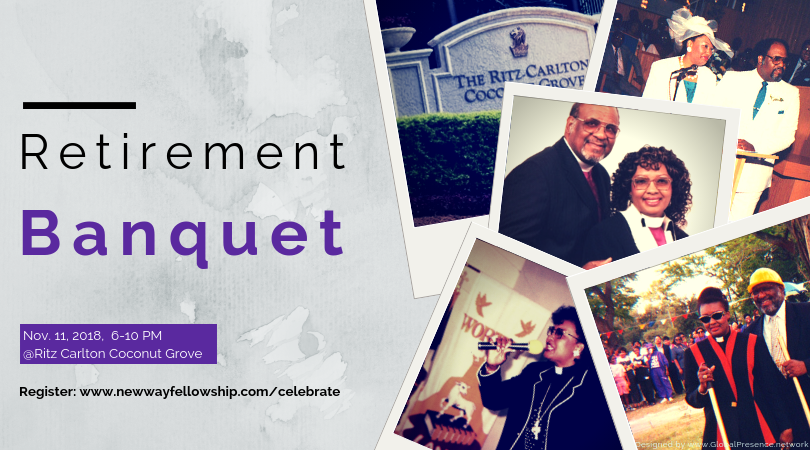 As Bishops Billy and Catherine P. Baskin celebrate 43 YEARS of pastoring New Way Fellowship Praise and Worship Church, the Convocation Committee wants to help make this blessed event a fantastic memory. The Committee is soliciting Ads, Patrons/and or Donations at the following costs:
Back Cover

$350.00

Back Inside Cover

$250.00

Full Page

$150.00

½ Half Page

$ 75.00

¼ Page

$ 50.00

Patron

(per Name)

$ 10.00
The Commemorative Souvenir Journal will be a high quality, professionally bound book. Ads w/payments MUST be received via Email or Postal Service no later than October 19, 2018.
Submission by Email: Ads & online payments can be made by logging onto www.newwayfellowship.com/souvenir-shop and follow links. Please email attachments (Souvenir Ad" as the subject line) to info@newwayfellowship.com
Acceptable Formats: When submitting your Ad via email the following are acceptable formats! jpg - .pdf – MS Word. Email any graphics, such as company logos as high-quality images (300 dpi or higher resolution with no blurring and excellent clarity).
Submission by Postal Service (Hard Copy): Please include original copies of any picture you would like included with your ad. Photocopies will NOT be accepted.
Make check payable to New Way Fellowship
Mail to:
New Way Fellowship Praise & Worship Church

Journal Ad Committee

16800 N. W. 22

nd

Avenue

Miami, FL 33056